de Grisogono .... say what?
History
Who would have when I would have ever talked about watch news from de Grisogono or any other mainly jewelry/fashion oriented brand. This year marks de Grisogono 15th anniversary and the 8th year since it introduced its first watch. They have much to celebrate having accomplished a remarkable amount in its fairly brief history. Founded in 1993 as a Geneva boutique based jewelry maker lauded early for its inventive high-end jewelry pieces and the untraditional use of gemstones. The brands commander and designer in chief, unrestrained and always bold Fawaz Gruosi, is the one always deservedly credited for the continuing growth and success of this brand. Although he never obtained any formal design or horology schooling Gruosi knows and does what he likes and so far it has proven to be a winning strategy. From his love affair with dark gemstones (today he is credited with popularizing black diamonds which are sort of a signature of the brand), to icy white diamonds collection (paired up in combination with pearls and gems), galuchat (highly texture stingray skin), to grey and brown gold and diamonds. You could say anything unusual has crossed it doors and became wildly popular with de Grisogono customers.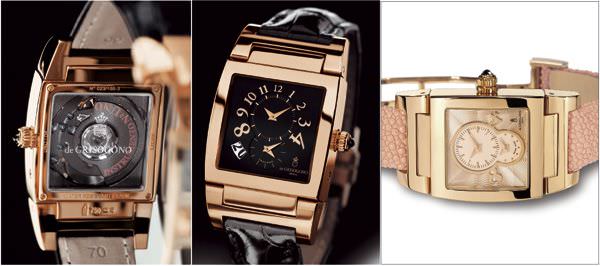 In 2000 finally the watches got their turn and Gruosi didn't fail to disappoint. Under the guide of his own preferences for functions Gruosi designed the Instrumento No. Uno which was a bonafied hit and still is the best seller of this young brand. Among the dual functions, large geometric case with mobile lugs, a very distinctive styling and finally the signature touch of a black diamond set in the crown. Followed were annual intros of models comprising of men's and women's various limited and non-limited as well as dress and sport versions. As demand has grown so has their manufacturing but at a measured pace. Operating from the recently expanded Plans-les-Quates workshop they produced approximately 4,000 watches in 2007 and may expand in future up to a self imposed cap of 10,000 watches. As well keeping their distribution exclusive and retail in check, their goal it to establish up to 20 boutiques worldwide.
All this leading up to BaselWorld 2008 with excited rumors of a revolutionary new models including a new movement that would change the way de Grisogono was perceived in the eyes of many horology aficionados. After having a chance to view the new models all I can say is that they certainly succeeded at that.
Otturatore
De Grisogono defied the fundamentals of watchmaking with the launching of its Otturatore, a timepiece combining audacity, refinement and modernism. Aptly named
9Otturatore means shutter) recalling the function of the photo cameras with goood reason as its mobile dial features a sequential display of seconds, date, moon phases and power reserve, with 3 of them always concealed.
By a simple manipulation, the sequential mechanism of the Otturatore can be displaced by 90°, simplifying the display of multiple subdials and indicators which tend to clutter a dial by revealing only one at a time, of course at its owners demand. Building this mechanical module (2892 base with a module made by Soprod) that makes this possible is quite a complex challenge with a lot of thought and R&D needed to accomplish this successfully in house. This highly ingenious, very playful and pleasing function is in principle appearing very simple yet it is deceptively just the opposite.
At a slight press of the buttons (only a millimeter) it has to release enough energy to move the mobile dial by 90 degrees in a few tenths of the millisecond (for the purpose of comparison ordinary chronograph movement takes a few hundreds of a millisecond). Thus this piece needs to sync and performs 15 dynamic functions (command, coupling, uncoupling, mechanical memory, gearing's, etc) in a few tenths of a millisecond taking into account inertia, energy and friction.
What should be notable for this timepiece, brand and horology overall is that until now horological complications usually played the showmanship extroverted part in the execution of a particular function while the Otturatore definitely belongs to the other dimension.
Movement
Automatic DG 037, exclusive De Grisogono/Soprod 9015 calibre, 21,600 vib/h, 39 jewels, 44-hour power reserve
Functions
Hours, minutes, seconds, date, moon phase, and power reserve indicator
Case
Curved rectangular, 5N 18K pink gold, 31.40 x 32.70 mm
Sapphire front and back
Water-resistant to 30 m
Dial
Silvered, Clou de Paris decoration, in two pieces with bidirectional rotating center
Sequential mechanical display of seconds, date, moon phases and power reserve at 9, 3, 12 and 6 o'clock respectively
Applied hour-markers and dauphine hands in 18K pink gold
Bracelet/Strap
Black crocodile, 18K pink gold double folding clasp
Meccanico DG
De Grisogono ushers in a new era with its creation of the very first mechanical digital display. A veritable horological masterpiece with a movement comprising no fewer than 651 elements, making this mechanical movement one of the most intricate made today. The Meccanico DG features two time zones, it is the first to display both analogue and digital time by mechanical means. This world first - and de GRISOGONO patent! - features a highly complex time mechanism inside a particularly contemporary design.
The MECCANICO dG can be described as a dense cluster of microsystems featuring extremely elaborate cam and gear assemblies. Its exclusive de GRISOGONO handwound mechanical movement comprises 651 components. It is composed of an analogue display of the hours and minutes on the upper dial and a digitally displayed second timezone on the lower dial. The mechanically operated digital display of the second timezone shows tens of hours, single hours, tens of minutes and single minutes, all displayed by mobile microsegments driven by an assemblage of 23 cams connected to a set of gears and a triggering and synchronization system. The time information is displayed by an array of 23 horizontally and vertically positioned micro segments. Vertical segments are 9 mm high and weigh at most 25 milligrams while the horizontal segments measure 2.90 mm in length and weigh only 10 milligrams. The segments have four faces: two opposing visible faces fitted with colored strips and two opposing unmarked faces. Time changes are effected by 90° rotations of the required segment or segments. Involving one to twelve segments, time changes are lightning fast.
Its intricate mechanical systems are visible through its transparent dial plate. Also featuring colored strips, the analogue time displays hour markers seem suspended in thin air so as to reveal the underlying mechanism. Like every de GRISOGONO movement, the MECCANICO dG's own caliber is meticulously finished and its components blackened.
Despite the power needed to generate the double analogue and digital display and the torque required to effect the instantaneous rotation of the digital displays micro segments, the MECCANICO's hand wound mechanical movement, exclusive to de GRISOGONO, provides a power reserve of some 35 hours, visible through a cambered sapphire backplate on a 90° sectoral display on the movement's reverse side.
The MECCANICO dG is expertly fashioned to match its exceptional movement. Notable for large dimensions (56 x 48 mm) and cambered lines, water-resistant to 30 meters (~ 100 feet), this innovating design is available in a choice of styles: titanium, titanium and red gold, titanium and rubber and titanium and platinum. In keeping with the designs futuristic allure, its correctors and the crown guard are fashioned from vulcanized rubber. Its analogue display is set by the crown opposite 3 o'clock while the second timezone is set by a pair of correctors - for hours at left, for minutes at right. Also crafted from vulcanized rubber, the strap is fitted with a deployment clasp buckle featuring the de Grisogono crest.
Driven by an insatiable quest for innovation, the maestro Fawaz Gruosi has achieved what others do not dare to dream, propelling haute horlogerie into a new dimension. Limited edition of 177.
Movement
Hand-wound DG 042, exclusive De Grisogono calibre, 28,800 vib/h, 35-hour power reserve
Functions
Analogue display of hours and minutes in upper part
Mechanical digital display of second time zone in lower part
Case
Curved rectangular in titanium, 18K pink gold, titanium and 18K pink gold, titanium and rubber, or titanium and platinum, 56 x 48 mm
Sapphire front and back
Correctors and crown-cover in vulcanised rubber
Water-resistant to 30 m
Dial
Transparent black
Two time zone displays, analogue and digital mechanical, De Grisogono patent
Green or gold dauphine hands
Bracelet/Strap
Black natural rubber with titanium or 18K pink gold folding clasp
Info via InSync, Swisstime, and de Grisogono.