Sotheby's Geneva Evening Sale
will offer Important Watches at Auction on Sunday, May 11th, 2008. Comprising around 200 lots, the sale is highlighted by an important and possibly unique over-sized single button chronograph wristwatch created by Patek Philippe in 1932. Formerly the property of Count Carlo Felice Trossi, this piece is estimated to sell over $2 million.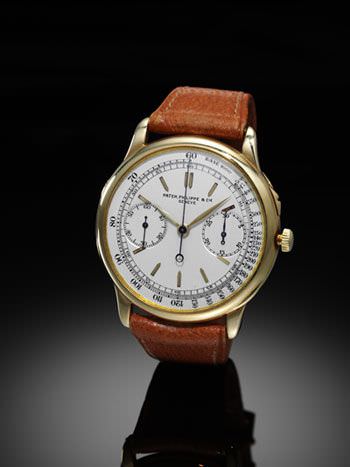 The "Trossi Legenda" Patek Philippe
Measuring 46 millimeters in diameter, this chronograph is most probably unique and is one of the largest wristwatches ever made by the company. It was clearly specially chosen by Count Trossi as a practical timekeeper for use in motor racing and aviation to assist with the accurate timing of events in a highly visible format. In later years, aviators' wristwatches were typically large in size and very few were made by Patek Philippe. Only one other wristwatch of similar size by Patek Philippe has appeared on the auction market and that was manufactured some 20 years later with a substantially smaller movement. Count Carlo Felice Trossiwas was born into an aristocratic Italian family 100 years ago on 27th April 1908. Captivated by the possibilities of speed, Count Trossi was a motor car and speed boat racer as well as an early pioneer of flight. In 1932 he became the President of Ferrari Scuderia. The highlights of Trossi's motoring career culminated in his wins at the Italian and Swiss Grand Prix respectively in the years 1947 and 1948.
Another highlight in the sale is an extremely rare and fine over-sized stainless steel chronograph Patek Philippe wristwatch with register, no.862323, Ref. 530A, dated 1939. Among the four wristwatches with reference 530A known to have been made by Patek Philippe, the example included in the sale is the only one featuring this particular dial. From a private collector, this piece is estimated at CHF700,000-900,000 ($635,000-815,000 ).
Info via Sotheby's and Europastar.